HIS RX 480 IceQ X² 4GB

Product Code
HS-480R4LSNR
EAN Code
4895139011586
Cooler
IceQ X² Cooler
GPU
AMD Radeon RX 480
Core Clock
1266 MHz
Memory Clock
1750 MHz
Memory Size
4096 MB
Memory Type
GDDR5
Memory Interface
256 bit
Interface
PCI Express x16 (PCI Express 3.0)
Card Dimension
23.5 x 13.0 x 4.0 cm
Box Dimension
34.0 x 24.0 x 8.0 cm
Box Weight
1.09 kg
Availability
Immediate
HIS RX 480 IceQ X2 4GB
delivers Premium Gaming Experiences beyond HD

The brand new look of IceQ X2 Cooler comes with Twin-fans and unique metallic fan shroud which is embossed with the silver strong lion icon and engraved with the HIS hexagonal patterns.
Why HIS RX 480 performs better ?
Advanced Composite Heatpipes
The Heatpipes are specially made to

increase the total surface area for

removing heat from GPU
Integrated VRM Heatsink
The heatsink is designed to integrate with the main block of Heatsink/Heatpipe

Much more effective to transfer heat away

from

HOT VRM
0dB Fan
Prolong the life-span

of the fans

Start to spin when the GPU temperature reaches about 60

0

C

Stop spinning when started & when GPU temperature drops to about 50

0

C

Provide a silence environment

for enjoying Home Movie & Casual Gaming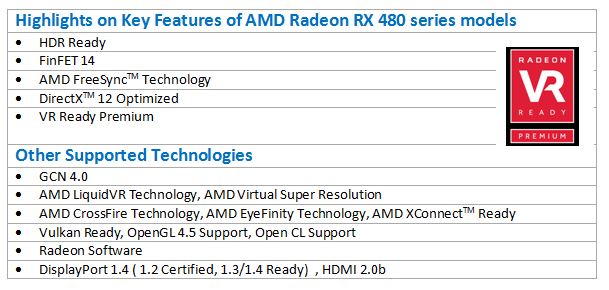 What's in the box
HIS Graphics Card

Driver Disc

Quick Installation Guide

8-pin power cable
Model Name

HIS RX 480

IceQ X²

4GB
Chipset

AMD Radeon RX 480

Memory Size

4096

MB

Memory Type
GDDR5
Core Clock



Base 1120MHz, Boost Clock 1266 M

Hz

Memory Clock



7G

bps

Memory Interface



256 bit

Power Supply


Requirement

500W (or greater) power supply with one 75W 8-pin PCI Express power connector recommended.

Max. Resolution


(per Display)


DisplayPort 1.4 - 5120 cx 2880 pixel resolution @ 60Hz

HDMI 2.0b - 4096x2160 pixel resolution @ 60Hz

Dual -link DVI---2560 x 1600 pixel resolution @ 60 Hz




Interface
PCI Express 3.0 x16

Outputs
3 x DP + 1 x HDMI + 1 x DL-DVI
System Requirements
PCI Express® based PC is required with one X16 lane graphics slot available on the motherboard
500W (or greater) power supply with one 75W 8-pin PCI Express power connectors recommended


NOTE: Minimum recommended system power supply wattage is based on the specific graphics card and the typical power requirements of other system components. Your system may require more or less power. OEM and other pre-assembled PCs may have different power requirements.
Minimum 4GB of system memory/ 8GB recommended
8GB (or more) system memory recommended for AMD CrossFire™ technology
Installation software requires CD-ROM drive
DVD playback requires DVD drive
A display with digital input (HDMI, DisplayPort or DVI) is required
Blu-ray™ playback requires Blu-ray drive
Supported operating systems include Linux®, Windows® 10 and Windows® 7
64-bit operating system highly recommended.
The terms HDMI and HDMI High-Definition Mutlimedia Interface and the HDMI logo are trademarks or registered trademarks of HDMI Licensing LLC in the United States and other countries.
Post your comment
Comments will be reviewed by the editors before being published, mainly to ensure that spam and irrelevant material are not published . Please feel free to comment!
We strongly encourage you to use your real name. E-mail addresses are required in case we need to follow up with you directly. We won't publish your e-mail address unless you request.

Back